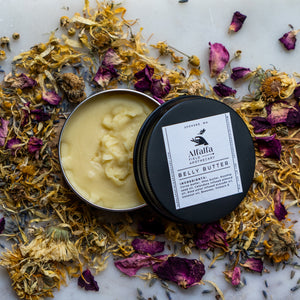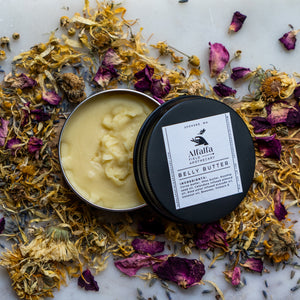 On Sale
Belly Butter
This smooth and soft belly butter is crafted with ingredients shown to increase the skins elasticity and help skin maintain hydration. 
Use once per day in the first trimester, twice per day in the second trimester and three times per day in the third trimester. 
Ingredients: (all organic ingredients) cocoa butter, shea butter, calendula infused almond oil, rose hip seed oil, rose petal infused avocado oil, coconut oil, beeswax, Vitamin E oil, lavender and chamomile essential oils. 
--
It is not the role of Alfalfa Field Apothecary to diagnose or treat medical conditions. While it is the belief of Alfalfa Field Apothecary that this tea is safe during pregnancy and breastfeeding, any herb or supplement taken during pregnancy or breastfeeding should be discussed with your midwife or doctor.