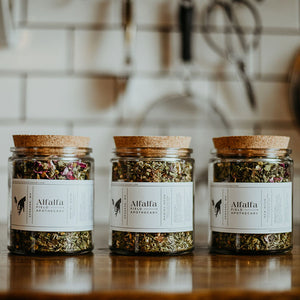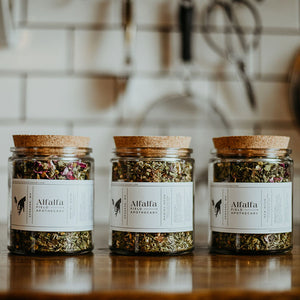 On Sale
New Moon Tea | Tea for the Menstruation Phase of the Menstrual Cycle
New Moon Tea: Herbs for the menstruation phase of the menstrual cycle. Blended to support emotional balance, tone the uterus, calm nerves and ease menstrual cramps. Begin drinking 1-3 cups per day starting 1-2 days before bleeding begins and continue until bleeding ceases. 
Ingredients: Red Raspberry Leaf, Chamomile, Motherwort, Spearmint, Cramp Bark, Rose Petals
Directions: Pour 8oz boiling water over approximately 1 Tablespoon herbs and allow to steep for 10 minutes or as long as several hours for a stronger herbal infusion. Drink 1-3 cups per day and don't forget to add a spoonful of honey to stabilize blood sugars.
Large Jars contain approximately 40 cups of tea
Small Jars contain approximately 25 cups of tea
Brown paper bags contain approximately 40 cups of tea (this is a great option for a refill of the large jars).
.
.
.
It is not the role of Alfalfa Field Apothecary to diagnose or treat any medical condition. These herbs should not be used in the case of liver compromise or pregnancy. Make sure to ask your care provider about any herbal products you are using if you have been diagnosed with a medical condition or are being treated for a hormonal imbalance.