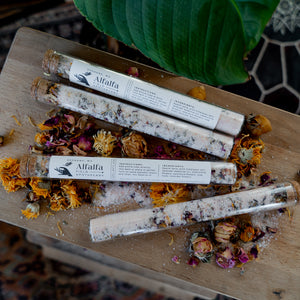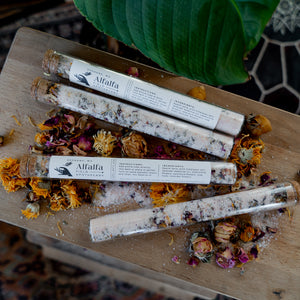 On Sale
Floral Bath Soak - Single
This relaxing blend of epsom salt, pink Himalayan salt and florals is the perfect addition to a relaxing bath or foot soak.
Directions: Add entire tube directly in bath or first place in provided sachet. 
Ingredients: Epsom salts, pink Himalayan salt, lavender essential oil, calendula flowers, chamomile flowers, lavender flowers and rose buds.
--
It is not the role of Alfalfa Field Apothecary to diagnose or treat medical conditions. While it is the belief of Alfalfa Field Apothecary that this tea is safe during pregnancy and breastfeeding, any herb or supplement taken during pregnancy or breastfeeding should be discussed with your midwife or doctor.