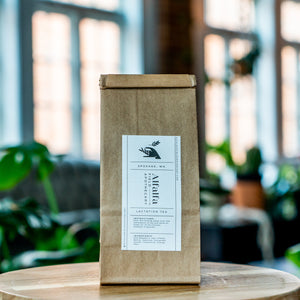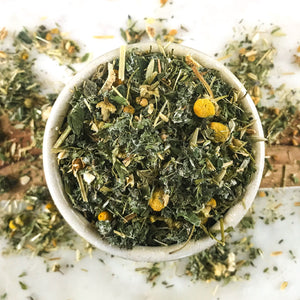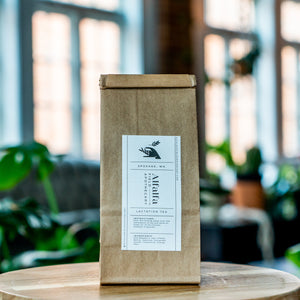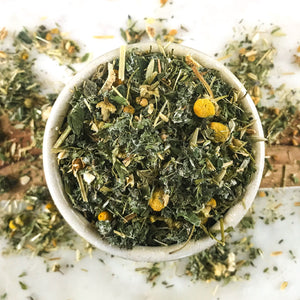 On Sale
Lactation Tea
Lactation Tea is specially blended to support an abundant rich milk supply as well as to provide a nursing mother with the extra nutrients needing during breastfeeding.
Fenugreek and fennel are widely used for their ability to increase milk supply while red raspberry leaf, nettle leaf, alfalfa and oatstraw are known for their ability to provide complex vitamins and minerals as well as aid in supporting a rich milk supply. Chamomile and orange peel added for a soothing effect and an extra delicious flavor.
Instructions: Pour 8oz boiling water over one tablespoon tea and allow to steep for a minimum of 20 minutes. For maximum results steep over night and drink 4-8 cups a daily.
All Alfalfa Field Apothecary teas are available in three size options (please note that the net weight of each tea will be different depending on the ingredients of each tea blend, meanwhile the jar sizes are consistently 8oz and 21oz):
Small Glass Apothecary Bottle with Cork

 

- 1.5oz - Approximately 25 cups of tea

Large Glass Apothecary Jar with Cork - 3.2oz - 35 cups of tea

Brown Paper Tea Bag (Great for a refill of glass jar) - 3.2oz - Approximately 35 cups of tea
Ingredients: Organic Red Raspberry Leaf, Organic Nettle Leaf, Organic Alfalfa, Organic Oatstraw, Organic Fennel, Organic Chamomile Flowers and Organic Orange Peel.
--
It is not the role of Alfalfa Field Apothecary to diagnose or treat medical conditions. While it is the belief of Alfalfa Field Apothecary that this tea is safe during pregnancy and breastfeeding, any herb or supplement taken during pregnancy or breastfeeding should be discussed with your midwife or doctor.