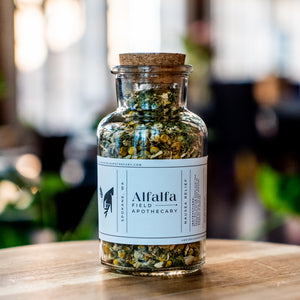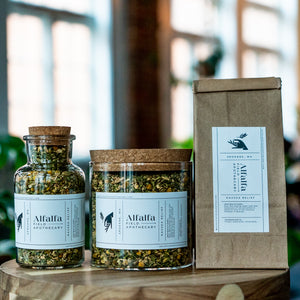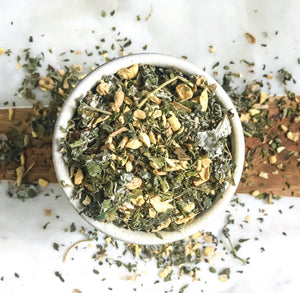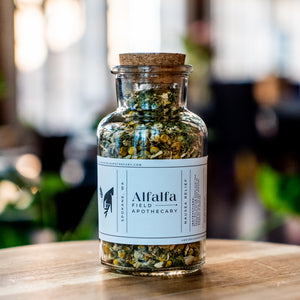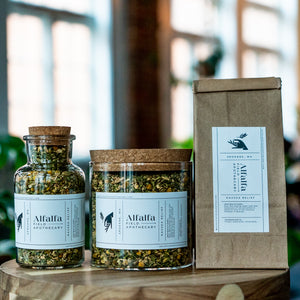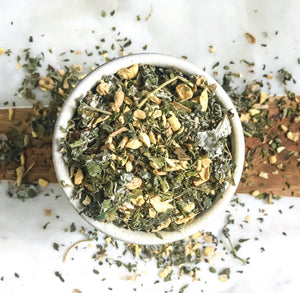 On Sale
Nausea Relief Tea
This tea is specially blended to treat nausea and morning sickness as well as aid digestion. Safe and gentle for use during during all trimesters of pregnancy.
Ginger has been used for centuries to treat nausea and stomach upset. Chamomile and spearmint are known for their ability to calm the stomach and treat nausea.
Instructions: Pour 8oz boiling water over 2 teaspoons of tea and allow to steep for five to ten minutes.
All Alfalfa Field Apothecary teas are available in three size options:
Small Glass Apothecary Bottle with Cork

 

- 1.5oz - Approximately 15 cups of tea

Large Glass Apothecary Jar with Cork - 2.5 oz - Approximately 30 cups of tea

Brown Paper Tea Bag - 2.5oz - Approximately 30 cups of tea
Ingredients: Organic Ginger Root, Organic Spearmint Leaves, Organic Chamomile Flowers.
--
It is not the role of Alfalfa Field Apothecary to diagnose or treat medical conditions. While it is the belief of Alfalfa Field Apothecary that this tea is safe during pregnancy and breastfeeding, any herb or supplement taken during pregnancy or breastfeeding should be discussed with your midwife or doctor.